The other day, I was writing my Spanish homework in my room when my roommate, Jose, who was taking a nap, woke up suddenly. He then looked at the screen of his phone and quickly got up from his bed, letting out a sigh that denoted his distress:
Late meal is almost over, he said nervously as he rushed out of the room.
Confused, I stared at him from over my computer. I never understood his obsession with late meal. Late meal is a term used to describe an option offered by Campus Dining to students enrolled in the meal plan. Essentially, each student has access to two $8 credits: one for late lunch and another for late dinner. Technically, it's meant for students who miss regular dining hours in the cafeterias because of classes or meetings. Late meal prevents them from starving. However, the way my roommate religiously got late meal seemed unusual (or so I thought) and left me deeply puzzled. For some context, Frist (where late meal is served) is located around 12 minutes away from Forbes (our Res College). Yet, he would sometimes purposely skip dining hall meals to go to Frist, braving the cold winter night. Worse: sometimes he would first eat at Forbes, and later, go for doubles at late meal! Seriously, why so much dedication? That day, I decided to elucidate that mystery and ask him point-blank what was up with him after he had gotten his meal.
Jose came back one hour later. I didn't even let him unwrap his chicken quesadilla and fries: I instantly bombarded him with the question that had been tormenting me to the point that I had been unable to focus on my assignment.
Why do you go through so much trouble for late meal? I asked.
He stared back at me, deeply offended by my question. "How dare you?" his face flushed with indignation. He asked as though he was too obfuscated to even utter a word.  My question seemed to have troubled him to his core. It was 50 degrees inside yet he was sweating profusely. He stared at me a little longer, trying to figure out if I was serious and whether I deserved an answer. He took off his coat while I stood still, waiting impatiently for his answer. Finally, he enlightened me on the foundation of his obsession.
That night, he unraveled the mystery of his love for late meal. At that time, everything seemed to come together. It all made sense. 
Jose first confided in me that he was often not hungry during the usual opening hours of the cafeterias so he preferred to wait until late meal, when he was sure he would be starving. Additionally, the consistency of Frist's menu assured him he would like what he ordered. He also had more choices. Whether he got a quesadilla, a burger, sushi, chicken tenders, fries or onion rings… he knew he would never be disappointed. He would sometimes be pleasantly surprised with a new addition to the menu: spring rolls, dumplings or pizza. Some days, when he just wanted to snack or grab something to take home for the night to help him push through his intense two o'clock reading sessions, he would only grab a bag of chips, chocolate chip cookies and a muffin. If that day he felt like eating healthily, he would grab a box of green grapes and one fresh banana. As long as the total was under 8 dollars: he could have them all. For free! Finally, and perhaps the main reason for his obsession, was that late meal was a unique opportunity to socialize.  Frist is already the center of student life at Princeton.  On a normal day, you find student groups promoting their dance shows, aspiring engineers working on P-sets together, Philosophy majors conversing about the meaning of life or Econ majors playing table tennis or billiards... etc. Add food to the combo and you have the exciting, vibrant and engaging environment of late meal. For Jose, late meal is one of the best things about Princeton!
Image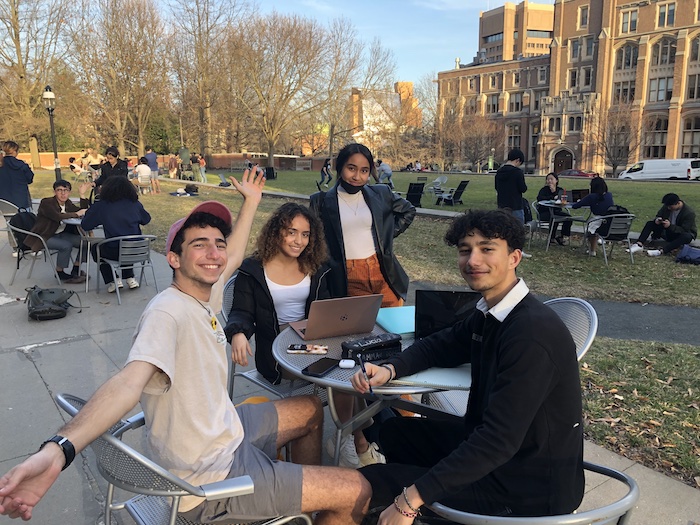 After that conversation, I never again saw late meal the same way. My life truly changed. Forever. And my eating schedule as well!