Bonjour à Tous! (Hello All!)
In today's blog post, I am sharing my experience with language learning at Princeton.
For some context, I studied French for all four years of high school. Because I didn't have access to language classes in middle school, I had to start out with an intensive class, and I did not end up taking AP French. 
The summer before I came to Princeton, as I got a million emails about moving in and orientation and new clubs, I also got an email to take a language placement test. I sat down for an hour or so and took the French placement test, which placed me in FRE 103.
Since I intend to pursue a Bachelor of Arts (A.B.) degree, I have to fulfill a language requirement. The requirement dictates that A.B. students must demonstrate proficiency in a language other than English either through standardized tests scores, a placement exam, or completion of a language course at or above the 107 level. So, I'd only need to take FRE 103 and another French course at or above FRE 107 in order to be done with my requirement!
There are so many types of language classes offered at Princeton, from Spanish and Latin to American Sign Language and Swahili. There's definitely something for everyone!
Last semester (Spring 2022), I completed FRE 103, so here are some tips I've picked up along the way to help you on your language learning journey here at Princeton: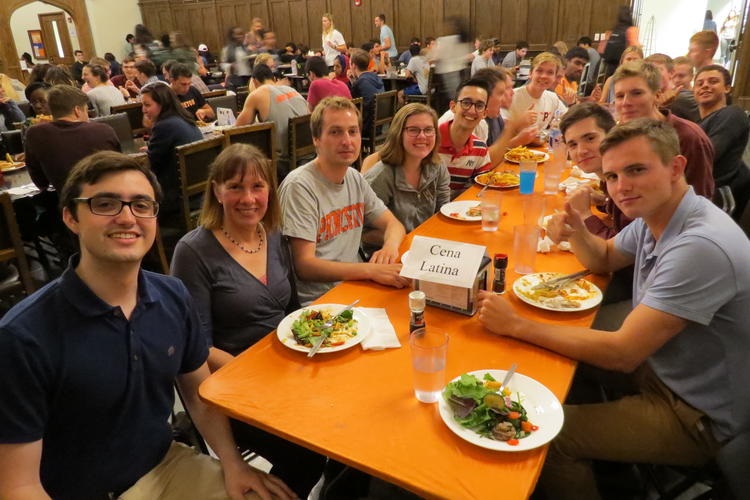 Language tables are your friend. I will say it again for the people in the back: LANGUAGE. TABLES. ARE. YOUR. FRIEND. What is a language table, you may ask? A language table is an event organized (usually by each of the different residential colleges) where native/fluent speakers and people learning a given language come together (usually over dinner in a dining hall) in order to practice. I have been to two languages tables for Spanish and French so far, and I've thoroughly enjoyed them. They are great opportunities not only to practice speaking your target language in a natural and low-stakes environment, but they're also a great way to meet new people (read: potential FRIENDS 😍)

Be proactive about addressing any vocab or grammar that isn't sticking. This is a tip I wish I had utilized more this past semester. I've always struggled with the different tenses in French (passé composé, impératif, imparfait, conditionnel, etc.) and when to use them. I didn't get around to scheduling office hours with my professor for some 1:1 practice with these verb tenses until the end of the semester, and by then it was a bit too late to fully understand and commit everything to memory. DON'T be like me: start going to office hours at the beginning of the semester and build a habit of going often and regularly! Language professors often have a set time each week that they dedicate for office hours, and if that time doesn't work for you then they can work to coordinate a different time over email or at the end of class.

Don't be afraid to explore a new language! Princeton is a once-in-a-lifetime opportunity to have access to a wide variety of renowned scholars well-versed in

a plethora of languages

. Why not take advantage of it? I personally want to learn a language called Yoruba, which is my parents' native tongue. Most schools don't offer this language, but Princeton is able to through a collaboration with Yale's Yoruba professor. After I fulfill my language requirement through French, I want to look into taking some

Yoruba

classes!
What language(s) do you want to study at Princeton? Are there any new languages you want to explore?