Xander de los Reyes '23
Image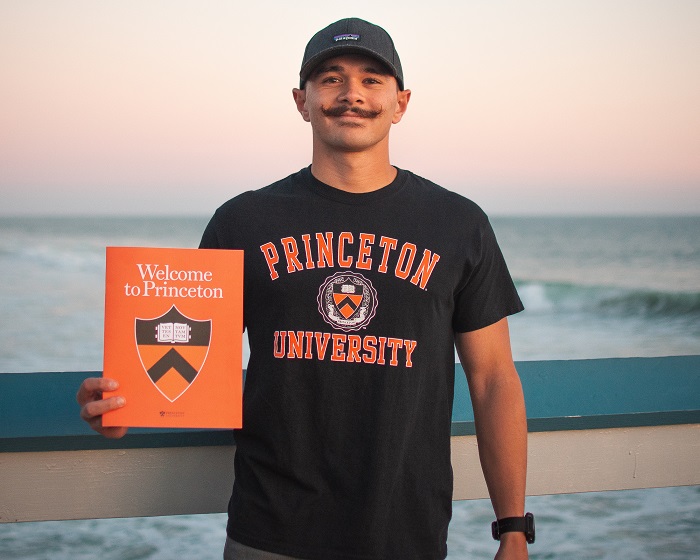 I spent my last six months in the Marine Corps moonlighting as a bartender. I'll always be grateful for that experience because, at a time when many separating service members experience a culture shock, I was able to make the Marine-to-civilian transition slowly and smoothly. It also taught me how to convert love for camaraderie into love for community, which carried me through the next two-and-a-half years of my civilian life, ultimately placing me into Princeton's community. Here, I've found immense support and infinite resources. The Writing Center has helped me refine my papers, the McGraw Center for Teaching and Learning has helped me decode Princeton's syllabi and the support of my residential college (shoutout, Forbes!) has ensured that I make well-informed academic decisions. Because I'm a veteran and a transfer student, I'm currently enrolled in "Everyone's an Expert." Unlike the traditional first-year writing seminars, this transfer-focused seminar builds on the unconventional backgrounds—academically or experientially—of veterans and transfer students. We're taught how to build on writing skills acquired from our previous institutions and encouraged to draw on the experiences that make us unique students. Truthfully, it's my favorite course because I've enjoyed interacting with other non-traditional students. Plus, as a prospective politics concentrator preparing for a writing-intensive career, I'm indebted to our instructor Dr. Keith Shaw, director of transfer, veteran, and non-traditional student programs—who also offers guidance and support for non-traditional students. The guidance and feedback he's provided will have a lasting impact on my writing and academic mindset. Reflecting on all of these positive experiences makes it funny to look back and think about my initial worries. When I was first accepted, imposter syndrome set in. I felt like my admission was an anomaly and that Princeton would immediately overwhelm me. As the semester approached, those feelings of anxiety grew, but—because of Princeton's useful resources and supportive community—they were quickly put to rest. All in all, Princeton has been an extraordinary community. Despite my initial fears, I now know I'm right where I belong—surrounded by encouragement and support. I'm a part of this community, and you could be, too.
---
Matthew Williams '24
Image
As a Marine Corps veteran and transfer student, I am far removed from the realm of a typical first-year student at Princeton. I am 22 years old and from the great city of Fort Worth, Texas. I received my Princeton acceptance letter as I neared the end of my four-year enlistment in Spring 2020. This news was accompanied by varying emotions: excitement, worries, anxiety and anticipation. Perhaps my most daunting concern was the unknown academic challenges that I would soon endure. Fortunately for veteran and transfer students alike, there are two student-run organizations that have been central in ensuring my smooth transition in an otherwise challenging plane. The Princeton Student Veterans (PSV) and Princeton Transfer Association (PTA) held veteran and transfer-specific events, Q&A sessions and provided additional resources to my incoming cohort. These student-run organizations have proven invaluable as I reflect on my Princeton experience.
My first semester at Princeton University has been an equally challenging and exhilarating experience. I intend to concentrate in politics with an emphasis on political economy. Albeit through Zoom, there remains a thrill when you are studying under some of the world's most prominent professors. The academic challenges I've faced pale in comparison to the resources Princeton offers. In addition to office hours, The McGraw Center is a helpful tool for both traditional and non-traditional students when you need additional help in a class. From the multitude of student clubs to simply chatting with other students after class, I have connected with several of the traditional first-year students despite being a part of the transfer program. I am proud to be a part of the growing student veteran population at Princeton University. Go Tigers!