As the deadline for early action applications to Princeton looms closer and closer, I'm constantly reminded of my own path to Princeton and the process it took for me to get here. I remember how stressful the college application process was, with everyone asking, "Where are you applying?" and, "What's your first choice?" It's easy to get overwhelmed by these questions, especially if you're not quite sure of how to respond.
The process of making your list of schools to apply to is tough. I remember I didn't understand why it was so hard when I was young; why couldn't students just apply to every single school in the country? That way they'd surely get in somewhere. I didn't realize that each application came with an application fee, not to mention the fact that the Common Application limits the number of schools you can apply to through their platform. (If the application fee is a hardship for your family – you can check with the school to see if fee waivers are available.) Upon learning this, I started to understand why so many students have a hard time crafting their list.
Image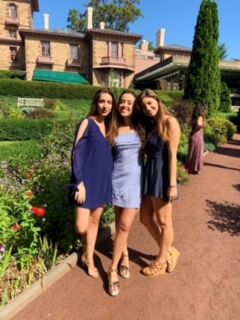 So, how do you go about making "The List"? What should you keep in mind when looking at schools? Below is a survival guide to college applications.
Location. Location is key. Many high school students can't wait to graduate and go to a university far away from home, but here's a pro tip: everyone gets homesick at some point or another. Maybe you miss your parents, siblings or pet. Maybe you miss sleeping in your own familiar bed. Maybe you miss that small-town feel. Whatever the reason, it's very hard to go home for the weekend if you live far away. When I was looking at schools, my parents insisted on a "no-fly zone," meaning the schools I chose had to be within driving distance from home. At first, I thought this was a huge limitation; then I realized that, since I lived in New York, I had so many colleges within driving distance from me!
Campus feel. When I was looking at colleges, I remember that the way a campus was structured was really important to me. I wanted a campus that felt like a campus. For that reason, a lot of city schools didn't make it to my list. One aspect of Princeton that I love is that it has a physical gate that clearly signifies where the campus is. This solid campus structure makes the school feel homier to me, which was important. If you're a person who loves cities and being immersed in them, try adding more city schools to your list!
Money. Money can be a sore subject that not a lot of people like to talk about. Nevertheless, the reality is that money is a huge factor when students apply to college. There are many different ways to go about this. In-state tuition versus out-of-state tuition can make a huge difference at some schools. At others, the financial aid program is what attracts students. When I made my list of schools to apply to, I made sure to keep all of this in mind before choosing universities. Princeton's generous financial aid program made college possible for me, as the program is need-based and is committed to meeting 100% of a family's demonstrated need. Princeton also reevaluates your family's financial situation every year in order to account for any changes, making it extremely flexible!
Academics. Of course! We can't forget the actual reason why you go to college! The academic opportunities at a university will likely be a deciding factor during your application process. Part of what attracted me to Princeton was its academic rigor which, in turn, opens doors to countless internship and career opportunities.
Alumni network. When you apply to a school, you have to also keep in mind your plans for after college. A strong alumni network goes a long way when it comes time to look for work, internships, fellowships, graduate programs, etc.  In fact, over 26,000 alumni volunteers work with the University in various capacities including providing opportunities and advice to students and young alumni interested in internships and careers.
I hope that these tips will be helpful to you during your college application process. However, you should also keep in mind that you're going to end up where you're supposed to be. The admission process doesn't always work out the way you expect it to, and the stress of the "What-ifs" is exhausting and simply awful. Try not to feed into the frenzy of college applications; if you focus on keeping your own process under control, you'll be much happier in the end!