While it is fair to say every Princeton student has toured Palmer Square at least once in their time here, far less have toured its next door neighbor Library Square. I had to look at it on a map to ensure I was naming the right area. While Nassau Street does have all my favorite restaurants and stores, I rarely find myself venturing there. The world beyond the FitzRandolph Gate always feels like a mystery to me, unless I'm grabbing a slice at Proof Pizza or buying the occasional mango green tea at Kung Fu Tea. This weekend though, my friend and I decided to skip our biweekly cycling session and explore Library Square. We had set our plans to grab a bite at my favorite restaurant in Princeton–Lan Ramen. (If you find yourself around here, I would definitely recommend getting their vegetable potstickers and Lanzhou braised beef noodle.) I'm getting ahead of myself here so bear with me. 
One lovely thing about Princeton (the town) and the University is the amount of construction that will most definitely detour your normal commute. The optimist in me remembers one of my life mottos: everything happens for a reason. I think one of the reasons that the left sidewalk was blocked was so I could find one of the best croissants I've ever eaten. This might be a bit of an exaggeration because I have been to Paris and eaten some of the best croissants ever, but the buttery-flaking missing hole in my life says that Bread Boutique is a close second. My friend and I walked past the store and immediately turned our heads back to the warm atmosphere and all of the amazing options available. The croissants were calling out my name so I knew I had to enter and buy some. They were absolutely delicious and I've officially marked it as my go-to place when I'm missing a flaky buttery pastry that used to be available at late meal.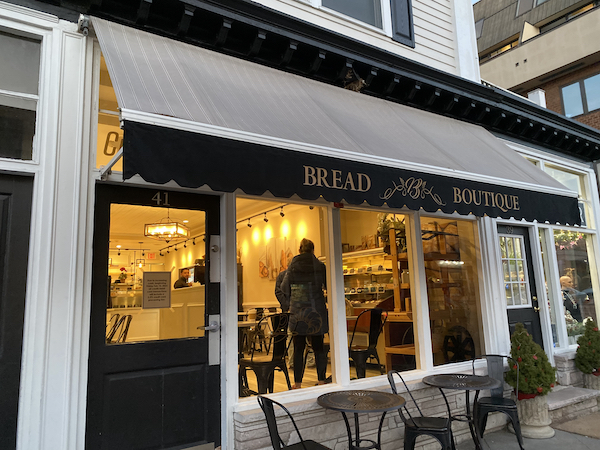 I should also add that the weather in Princeton has been on the colder side. While my west coast friends almost always find some reason to complain about New Jersey weather, today was unlike the cold week we've been having. The sun was shining brightly and the air was positively cool–a perfect day to be outside. So, we took our croissants to go and sat outside at one of the many tables available. This was definitely an opportunity for a good photo session so we did take a lot of pictures but we also took in our surroundings. We noticed this cute little store hidden behind a huge tree and saw that there were sweaters hanging outside. This brings us to stop number two, Shop the World, a fair trade store. We entered the store and were amazed by how much they could fit into this tiny store. The person working told us that the owner travels the world to fill the store and with every object we picked up was able to tell us where it came from. My friend found a Mexican Baja jacket and instantly knew she had to buy it. We also found these cute animal figurines that were painted on with such intricate designs–we had to grab a few. If you're looking to explore the world in one place, I recommend checking out the shop and supporting the workers who make everything there!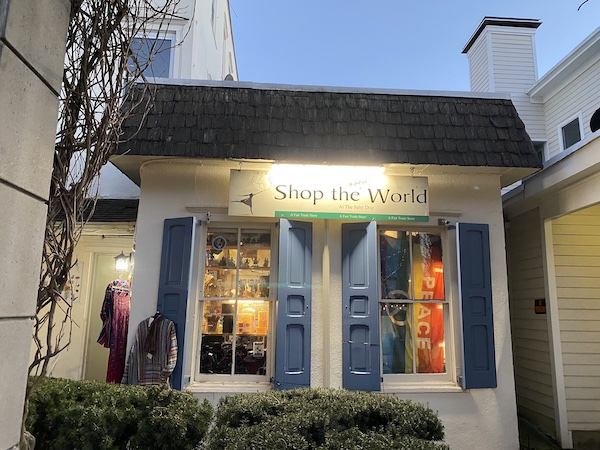 Finally, we ended our expedition with a delicious meal at Lan Ramen. I'll allow the food and atmosphere to speak for themselves but I'm truly glad that I decided to take a break from my highly organized Google Calendar schedule. Sometimes it's hard to find a moment of spontaneity when you feel like you have to schedule every minute of your life to feel productive, but a day like this is important. Something everyone says around here is that you have to make time for things that matter to you and that's true, a day of relaxation is equally as important as a three-hour problem set cram session or a full day stuck in Firestone Library. This Galentine's Day, make time to be spontaneous and have fun, I promise it'll be worth it.