Members of Princeton's Class of 2022 have had an up-and-down, unconventional time during these past four years. But I count myself very lucky to have experienced not just one, but two, of Princeton's most unpredictable and unforgettable traditions: the bonfire, which happens only if our football team defeats both Harvard and Yale in one season.
In the late fall of 2018, and again just this month, all of campus gathered in front of Morrison Hall for a bonfire that reached high into the night sky. 
Image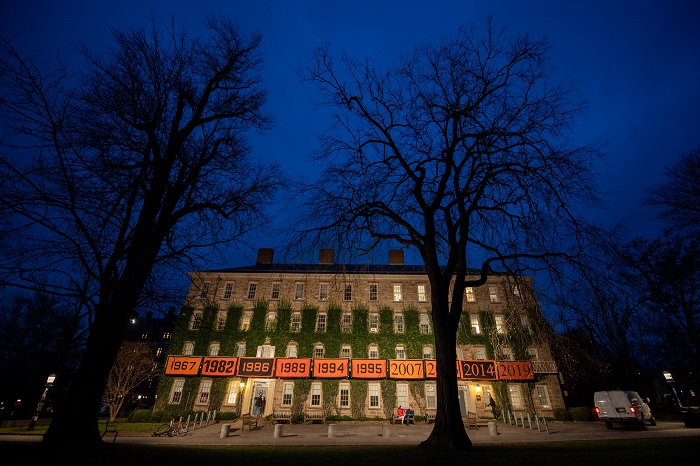 This year, I found myself staring at the high, bare branches of a particular tree, lit brightly against the dark sky by the orange glow of the bonfire. I remembered looking at the same tree three years ago as a first-year. Now, in the same place and warmed by that same heat, I didn't even have to close my eyes to imagine that it was 2018, that the majority of my time at Princeton still stretched ahead of me. 
The crowd, rowdy and calling for the flames before the fire had begun, seemed to quiet as the bonfire crackled, its sparks catching high into the wind. On one side of the green, the Greek pillars of Whig and Clio were lit orange - all other light came from the growing fire, illuminating our faces and protecting us from the November chill. 
Sustained on wood pallets assembled and painted by each class the same afternoon, the flames stretched as tall as the trees, as if they were trying to ring the bell atop Nassau Hall. The crowd cheered as wooden pallets cracked and fell as they were consumed. Within our orange bubble, everything touched by night was lit bright as day.
The fire remained strong for more than an hour before it began to diminish. I felt that I had been there only a minute since it first began.  
Image