"Sheesh, it's hot!"
That was my first comment when I stepped foot on Princeton's campus during the summer. I was told multiple times that the winters here were extremely cold. Yet, no one had warned me about the heat or the humidity here. I guess they just assumed that I was used to the hot and humid weather coming from the Caribbean. Truth is, I was not. Or maybe I was. Maybe I used to be. Maybe I forgot how to feel comfortable in 30-degree weather (or should I say 90-degree weather, since we are using Fahrenheit now!) after living abroad for close to two years. In any case, my first day at Princeton, I made the mistake of wearing a large 100% cotton dark blue sweater. It did not take me long to start the mistakometer: mistake number one!
This past summer, I was fortunate enough to be part of a cohort of ten students invited to attend the Freshman Scholars Institute (FSI) on campus. Considering the issues my country, Haiti, was facing, this was the best option to ensure I had access to the resources I needed to take advantage of this opportunity to explore Princeton before the official start of the semester. To get a taste of Princeton before Princeton.
Image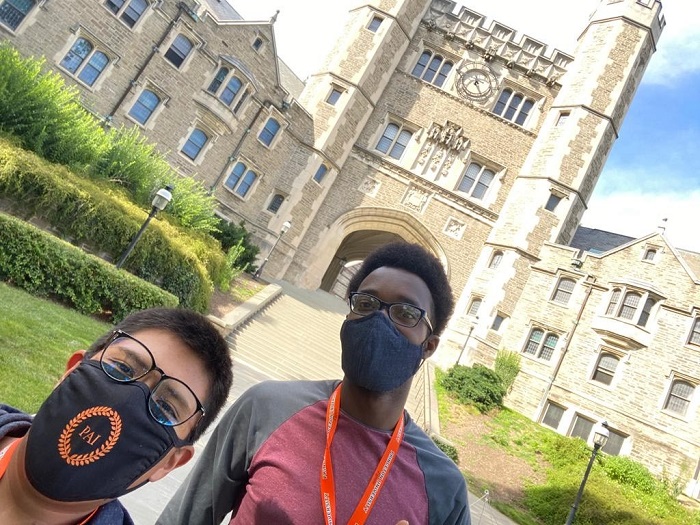 Yet, I was insecure at first. I doubted that I would be able to succeed with online classes. Until then, my high school experience had been mostly negative. I remember my teachers and classmates being overwhelmed and inaccessible. The material was barely engaging. Perhaps the most disheartening aspect of this dark epoch was the significant lack of interaction which for me represented a major issue. My favorite part about being a student has always been the ability to directly interact with and learn from both my peers and my instructors. Online learning seriously hampered this process. I was apprehensive about going through it all again. Besides, I was now going to Princeton. I anticipated the material to be comparatively more difficult with the teachers to expecting even more from me. 
The first thing I noticed when FSI started was the enthusiasm of the staff. They had this inspiring way of drawing everyone in and keeping us engaged. They were well imbued with the challenges that coordinating this online program entailed and instead of using the circumstances to justify their shortcomings, they were determined to brave all obstacles to make the experience just as enjoyable as if everything was happening in person, although in a distinct and special way.
I had the impression that everyone wanted me to feel at ease. I progressively started to feel more comfortable interacting and asking questions.  My professors made sure that I had access to all the resources and assistance necessary to succeed in their courses. On the one hand, there were office hours, learning consultations, writing center appointments… etc. On the other hand, I received support from departments and offices at Princeton that targeted my individual identities and were able to address the specific challenges that I was likely to face because of them. This included support for international students, ESL and multilingual students, students of color, first-generation and lower-income students. I suddenly felt excited about learning, meeting new people and trying out new things that seemed appealing to me now that I was in this space. 
These six weeks at FSI mainly taught me two things. First, I learned that while things can (and will) be tough at Princeton, I will always find the resources to support me in whatever I am going through and that I can count on the help of passionate people who genuinely care about my success. Second, I learned that it gets very hot here during the summer! 
I look forward to many more mistakes and even more learning opportunities!