A ray of sunlight peeks through the window and your alarm clock rings for the fifth time. You wouldn't be caught dead waking up this early in the morning normally, but it's fall course selection time and it's an inevitable part of the process. Slowly, you rise up from bed and anxiously open your laptop to TigerHub. You remind yourself that today you are waking up this early so you have the luxury of sleeping in next year. Hours spent perfecting and curating the best schedule can all turn to dust if you don't press enroll right at 7:30 a.m. I'll take the story back a few weeks so you can have a clearer picture of my course planning process. 
Princeton usually releases courses for the fall semester a few weeks before course selection (this year course selection runs April 18-20). Depending on your year, you may go about course selection in a variety of ways but I'll be speaking from the perspective of a rising junior who plans to major in psychology. So far, I've completed all my distribution requirements and pre-requisite courses for my major. As an A.B. concentrator, I had to take 11 general education courses to fulfill all of the distribution areas (not including the writing seminar and the foreign language requirement). All of the courses I've taken so far have been genuinely interesting; some I may not have anticipated taking before entering college, but nonetheless I'm glad I was able to expose myself to different areas of study. Meanwhile other courses, I can't imagine a life without: LAO347: "Latinx Literature and Film", ANT308: "Empires of Debt" and AAS201: "African American Studies and the Philosophy of Race."
You need to have a game plan when you go into course selection. First, you should identify which courses you need to take for the semester. This usually includes prerequisites for your major or certificate. I need to take PSY300: "Research Methods in Psychology" because it is advised that I complete it before the end of my junior year and it's only available in the fall. I add that to my course planner on TigerHub; some students use ReCal (a course planner website made by Princeton students) but TigerHub is easy enough for me. Once I have that time sectioned off, I can begin to work my other courses around it. I use the Princeton course offerings advanced search feature to look for days and times that are convenient for me and browse through courses that I might be interested in. If I'm being honest, there's no perfect way to find your courses. Sometimes I'll search through all the subjects hoping that something interesting might pop up but usually I look under areas I'm interested in. My go-to subjects are Psychology, Latino Studies and Gender and Sexuality Studies. 
While this is not a required step, I like to ask my friends about any courses they might be taking next semester. There's nothing better than entering a lecture hall and having someone already saving a seat for you. I also think it's helpful to have someone to bounce scheduling ideas off of and get a second opinion, so definitely make it a group effort, it'll make the whole process seem less stressful. Since I am trying to complete a Latino Studies certificate, I look for classes that fit my time frame and that I think would be interesting. I found SPA250: "Identity in the Spanish-Speaking World" which has a really cool description. Then, I check out the requirements and grading system. I see that there are no exams and that I'll be mainly graded on participation, papers and presentations. I tend to steer towards classes like this because I'd rather write papers than take exams. Other people prefer the opposite so there's definitely a variety of classes that can fit either preference. One cool thing about this course is that there is a mandatory travel component where we would travel to Puerto Rico during fall break.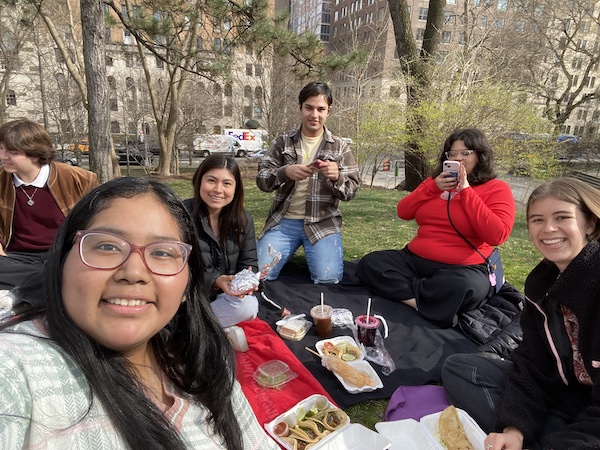 Once I have planned a first-choice list of courses, I also search for backups. This is especially important for small class sizes like seminars, which tend to fill quickly. I also keep in mind the following tips:
Timing: Think realistically about when you will wake up in the morning. Don't register for an 8 a.m. if you're more likely to be up late. If you're a morning person, then go for it! 
Lunch: Make sure to give yourself breaks for meals. Dining halls are only open for lunch between 11:30 a.m. and 2 p.m., but you can always grab a late meal at Frist. 
Reviews: Look at course reviews on Princeton Courses, these are all student reviews that really help put classes into perspective. 
With course selection coming next week, I am well prepared to pick quickly. Once I'm done, I'll be right back under my covers until the alarm for my 11 a.m. lecture!