Back in 1911, when Princeton formalized its student employment program, common on-campus jobs included husking corn and stoking furnaces, according to the Student Employment Handbook.
Those jobs aren't available any more, but the student employment program is still going strong. About half of Princeton's undergraduates work part-time jobs for a variety of reasons: to help contribute to their financial aid package, to save up for personal/future expenditures, or simply to do something  they enjoy outside of their schoolwork.
I've personally worked as a private tutor for local high school students, a lab TA (teaching assistant)  for the computer science department, an EcoRep for the Office of Sustainability, an LNT (Leave No Trace) Master Educator for Outdoor Action and, of course, a blog writer for the Office of Admission — proof that there are countless off-campus and on-campus employment opportunities.
With the plethora of options available and the large number of students working part-time at Princeton, I thought I'd showcase what are, in my opinion, some of the coolest jobs on campus!
1. Baker at Murray-Dodge Café
Although currently under renovation, the underground café in Murray-Dodge is, in my opinion, one of the happiest places on campus. Sponsored by the Office of Religious Life, the café serves free freshly baked cookies and tea every afternoon and night and hires students to bake said cookies. What could be better than baking cookies, giving them away for free to your fellow students and getting paid to do so? The café is also just a wonderful place to hang out with its fairy lights, comfy couches, board games, and art supplies for drawing and painting.
Image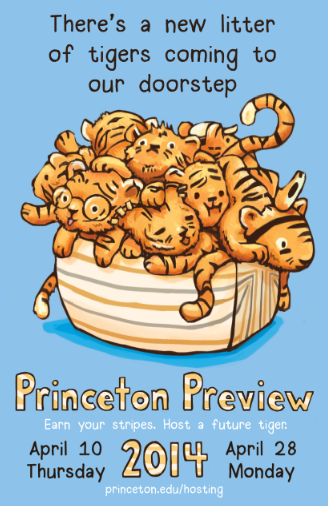 The Student Design Agency (SDA) is one of Princeton's Student Agencies, which are student-run businesses that offer a variety of products and services to the Princeton community. The SDA employs a team of student graphic designers (including Aliisa!), offering print and web graphic design to a variety of clients. On its website, the SDA states that it tries to "improve graphic design on campus," and I believe it does quite successfully. I've seen many people decorate their dorm rooms with posters designed by the SDA because they really do produce beautifully designed work.
3. Sports Stats with the Department of Athletics
For all you sports fans out there, Princeton's Department of Athletics hires students to do in-game stats, so you get paid to watch D1 athletics and contribute to the athletic communications office. They also hire students for many other functions, such as WFR/EMTs (Wilderness First Responder/Emergency Medical Technician) to serve as medical staff for club sports' home games, and spirited students to dress up as the Tiger mascot.
4. Climbing Wall Staff
The Outdoor Action climbing wall, which offers free indoor rock climbing to all Princeton students, faculty and staff, is managed entirely by enthusiastic undergraduate students who set routes, belay others, teach belaying/climbing/bouldering, and offer general encouragement to rock climbing newbies (like myself). Other perks of the job include getting keys to the wall, so you can climb anytime you want!
5. Intern at the Princeton University Art Museum
The Princeton University Art Museum is also one of my favorite places on campus (it's actually right across from Murray-Dodge) and also free and open to the public (anyone noticing a trend here?). The museum offers an academic-year paid internship program for Princeton students, allowing interns to work directly with the museum's curators, exhibits and collections. That's pretty impressive considering that the museum houses over 92,000 works of art. It's an amazing opportunity, especially if you want to work in a museum or are just interested in art, in general.
Of course, this roundup is sourced from my limited knowledge. There are definitely lots of other cool student jobs that I don't know about, but hopefully you've gotten a taste of the wide range of student employment opportunities on campus.