Forget about George Washington, Abraham Lincoln, Martin Luther King or Rosa Parks. Argentina's only, true national hero is soccer player Lionel Messi. A legend admired by citizens of all generations, it's every Argentinian's dream to see him play live. That dream became a reality for me when Princeton's Jewish-Latino community, J-Lats, invited me to an Argentina vs. Jamaica game in New Jersey last September. 
J-Lats had always been, and continues to be, an important community for me on campus. My experience as a Latino is fundamentally interwoven with my experience as a Jewish person, and my experience as a Jewish person is impossible to detach from the Latino context where it flourished. J-Lats gives me a group where that intersection of identities is celebrated— we host "Shabbat Picante!" at the Center for Jewish Life, we bring speakers, and we host world-cup-themed study breaks and food-filled meetings. 
When Argentina's Fútbol Association announced a game in New Jersey, I thought to myself: "c'mon… New Jersey out of all places? This has to be a sign from the universe." I contacted J-Lats's president, Alex Egol, and plans went into the works. Less than 2 weeks later, on September 27th, 2022, we were all on a train bound for the Red Bull Arena. We were welcomed by tens of thousands of fans wearing la albiceleste and passionately chanting on the team that just a few months later would crown itself FIFA World Cup champions.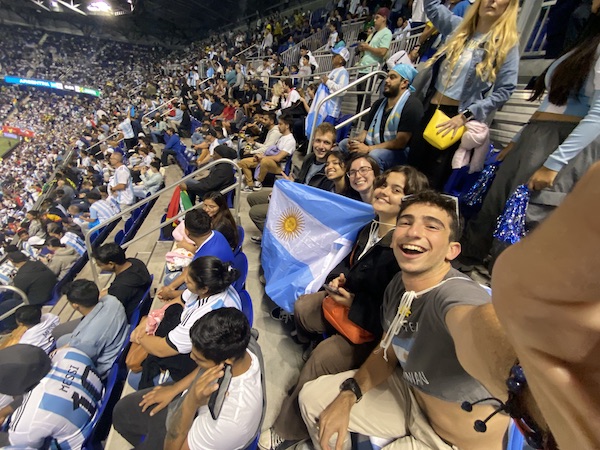 Only 13 minutes into the game and suddenly GOOOOOOOOOOOOOOL!!! We skyrocketed out of our seats and screamed like there was no tomorrow; we hugged and vámos-carajoed. We watched the rest of the game attentively, and then he was released onto the playing field: Lionel Messi! Seeing him in real life was difficult to define. It was strange to see that he's not a fictional legend that landed from the heavens: he's a human with two legs, and mamma mia can those legs do stuff! Messi authored the 2nd and 3rd goals, which made the arena shake in what can only be described as South American spirit.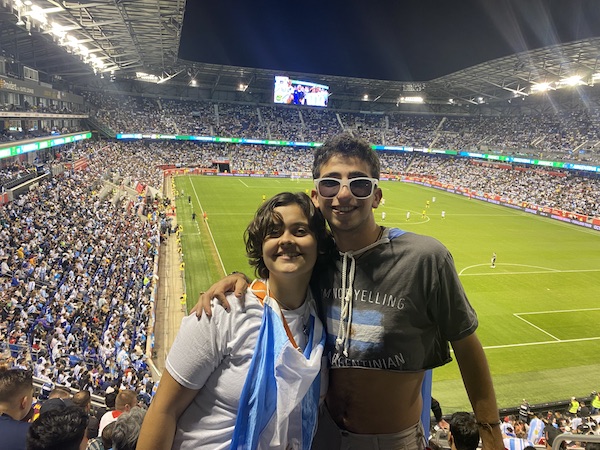 Coming back to campus, I felt grateful and lucky. Who would have guessed that the first time I'd see Argentina play live wouldn't be in my homeland, but in New Jersey instead? The possibilities Princeton gives its students are endless, and they go from doing research with Nobel laureates, to designing computational universes, to fulfilling your dream of seeing your nation's hero play fútbol.
I can say today, as I'm sure I'll tell my grandchildren one day, that I saw Argentina's World Cup champion team play live in the field, with 2 goals from the "GOAT" Messi. Vamos, carajo!