POV: You're having a #tough day on campus because you overslept which means you had to speed walk to class (highly decaffeinated) which means your hair got all frizzy which means you're not a happy camper, to say the least. When you leave class, you put your AirPods in and start listening to your latest jam, "Better" by ZAYN...and suddenly, all of your stress fades away. Sometimes, that's all it comes down to: finding the perfect song for the perfect moment. That's why I've put together a "Tiger Tunes" playlist that coordinates Princeton-specific experiences. Find out when to listen to each song, and scroll down to see the full playlist on Spotify!
Working out in Dillon Gym: "Stuntin' on You," by Tyla Yaweh, ft. DaBaby
Walking to class in the spring: "Peaches," by Justin Bieber (clean version)
Getting ready in the morning in your dorm room: "High Fashion," by Roddy Ricch & Mustard (clean version)
Doing laundry: "There She Go," by Justin Bieber & Lil Uzi
Studying on C Floor in Firestone: "Perfectly Wrong," by Shawn Mendes
Studying on A Floor in Firestone: "Like I Can," by Sam Smith
Just got a fire grade on your paper/exam: "Just Like Magic," by Ariana Grande (clean version)
Thesis/Junior Paper grind: "Save Your Tears," by The Weeknd (clean version)
Studying in Café Vivian in Frist Campus Center: "Watermelon Sugar," by Harry Styles
Walking to class in the fall: "Beautiful," by Bazzi
Walking to class in the winter: "OTW," by Khalid (clean version)
About to go to the eating clubs with friends on a Saturday night: "What's Next," by Drake (clean version)
Applying for jobs/internships on East Pyne couches: "successful," Ariana Grande (clean version)
Finishing up an essay in the Tiger Tea Room (while eating a croissant): "Motivation," by Normani
Got to Late Meal too late and the cali rolls are gone: "Better Off," by Ariana Grande (clean version)
End of the semester: "Memories," by Maroon 5
About to see your crush in lecture at McCosh 50: "What You Know Bout Love," by Pop Smoke (clean version)
Waiting in line to pick up FREE class gear: "100 Years," by Five for Fighting  
Ready to download this elite playlist? Follow me on Spotify @msalas-18 or build it yourself by adding the songs here!
Image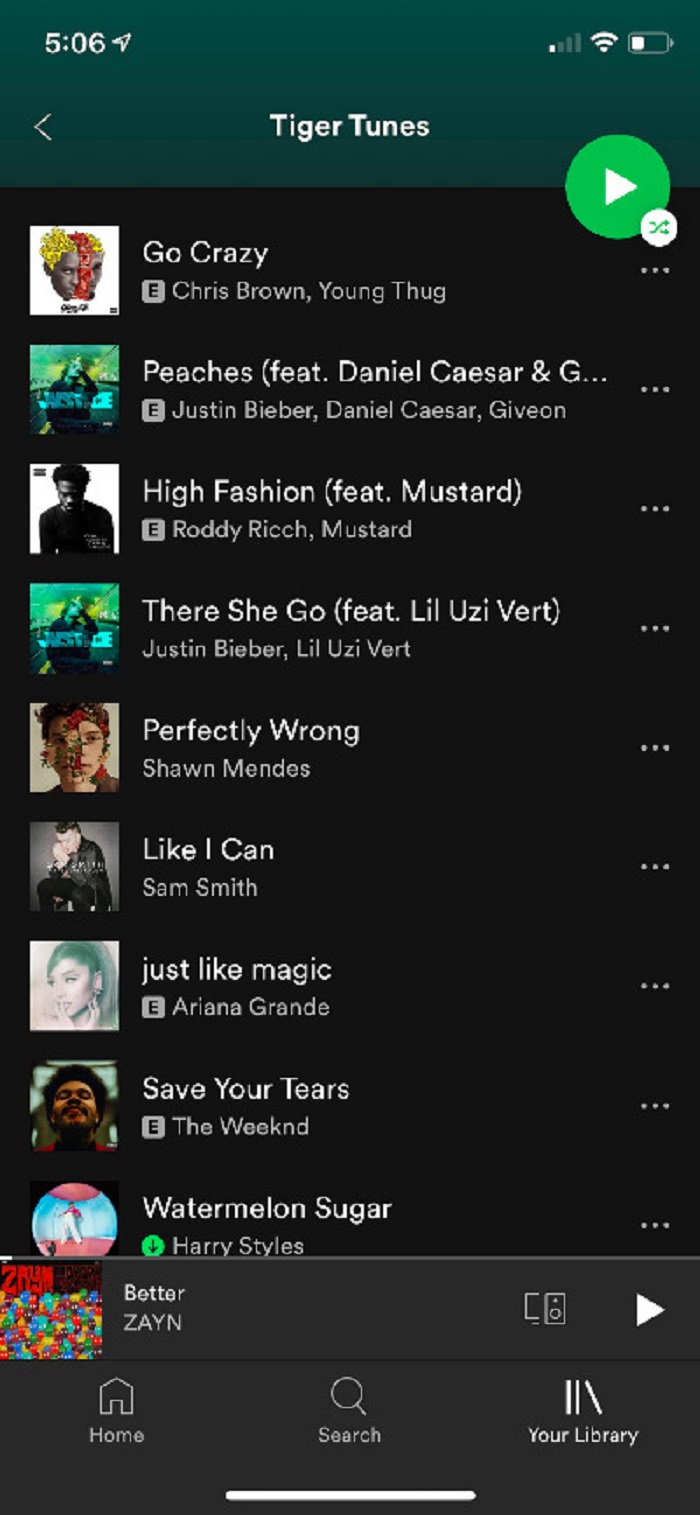 Image
Subtitle
With a song for each Princeton-related activity, this will be your new go-to for music, no cap
Featured Image

Authored by Admission Staff
Off
Legacy Content Type
blog_post