I recently had the opportunity to sit in on immigration court proceedings with one of my classes. Though the majority of that day was spent speaking with the Chief Judge of Newark Immigration Court, meeting with our consulting attorney and other lawyers working to provide universal representation in asylum cases, and enjoying a lovely lunch at a local Ethiopian restaurant, that single hour inside the court left the largest impact on the class.
My journey to this class is a testament to the supportive networks that exist among Princeton faculty and students. While writing a final paper on Mexican immigration policy for one of my first-year spring classes, my professor at the time suggested I reach out to Dr. Frank-Vitale, a postdoctoral research associate in the Program of Latin American Studies (PLAS) whose work had dealt greatly with the topic that I was researching. Dr. Frank-Vitale was immediately extremely accessible and happy to share her knowledge with me–a student who was not even taking her course that semester. 
During the process of meeting with her, I found out about her course, LAS 362 Central Americans and Asylum in the United States. My interest was instantly piqued, both as a daughter of two immigrants, and as somebody who is interested in pursuing a career in immigration law. Additionally, I had loved my previous experiences with courses in PLAS, and was excited to work towards a certificate in the program.
The class itself is a theoretical and practical exploration of the asylum seeking process in the United States. It has dealt with themes including the evolution of the U.S. immigration system, the ethics of international conventions pertaining to immigration, and the logistics associated with applying for asylum or refugee status. The class meets each week to discuss these topics in depth, getting to hear not only from an amazing professor, but also from twenty other brilliant undergraduates. Our semester-long project involves working with an attorney to create country conditions reports that will hopefully be useful in four real-life asylum cases.
Our trip to Newark was not only an opportunity to build community with the class outside of a seminar-style setting, but also a chance to engage with the community outside of Princeton and gain an insight into the sort of impact that our work may have. I believe this is something that is beautifully unique to Princeton, and I cannot describe the gratitude I feel for these sorts of opportunities to allow our classwork to reach beyond the classroom walls.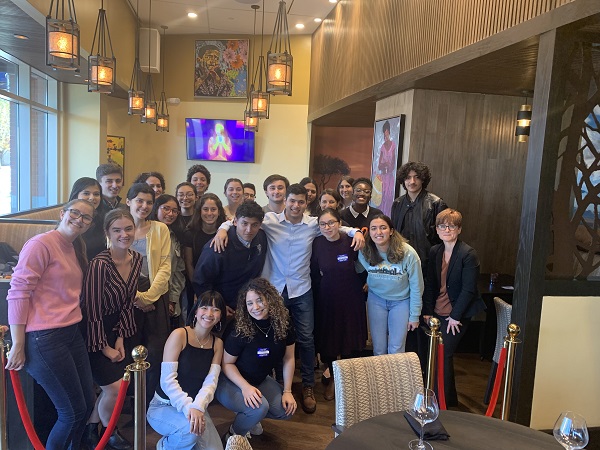 I already know that LAS 362 will be one of my most memorable and formative experiences during my time at Princeton. And although I will be sad to say goodbye to this course come December, I will leave this class feeling fueled in my passion for immigration justice, seeking the next step in immigration advocacy.