My best friend introduced me to Chancellor Green Library during our first few weeks on campus.  We quickly bonded over our love of this peaceful rotunda. The library often teems with busy students, including me.  Something about the beautiful atmosphere makes my stress dissipate, at least a little.
Chancellor Green, while a library in name, does not have a circulation desk. There are shelves full of the most random collection of novels and nonfiction books. I've seen everything from Toni Morrison's "Tar Baby", to an outdated guide to getting into law school, to Professor Keith Whittington's "Speak Freely", the book about free speech chosen by President Eisgruber for everyone in my class year to read before our first semester.
The library contains four oversized brown leather chairs with matching ottomans that are by far the most comfortable chairs I've ever sat in. My favorite chair is the one with the best view of the entrance and the stairs leading up to the top level. This makes it easy to spot other friends who also gravitate towards this study space.
Image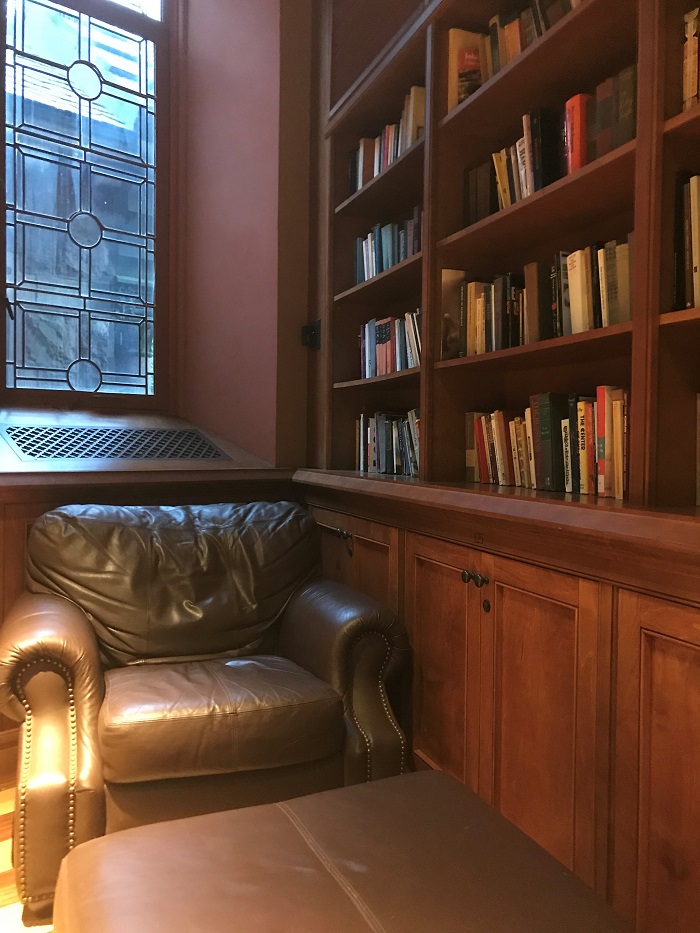 The only noises to be heard in this peaceful abode are the whir of the air conditioner and the occasional whispers. The quietness makes it a productive place to complete my assignments. Full conversations are not exactly tolerated here. Most of the time this holds true, except one afternoon when there was an opera rehearsal while I was trying to study. There are lots of events in Chancellor Green because it is such a beautiful place.
Chancellor Green is also a prime napping location. There have been countless times I've come here looking for a seat only to find the comfy chairs taken by students fast asleep. Several times, I entered the library only to find a student napping in my favorite chair. When they got up, someone else sat down and promptly fell asleep.
Words cannot fully describe the magnificence of Chancellor Green. I am already dreading the days post-Princeton when I can no longer sink into my favorite chair and think about how lucky I am to be here.