CA, OA, DDA. These are acronyms that all incoming first-years come to know as they embark on their college journey at Princeton. Community Action, Outdoor Action, and Dialogue & Difference in Action, respectively, are three of the main orientation programs that new students are assigned to upon arrival to campus. While all three programs have their unique merits and focuses, I'd like to talk about my amazing Community Action experiences, both as a first-year student and later as a leader. 
I remember arriving at Princeton and, like many incoming students, wondering how, when, and where I'd make friends. Surely, you'll meet peers through your classes, your advisee "zee" group (AKA the people that live on/around your floor), and through clubs. However, CA, and orientation in general, presents a special opportunity to meet a random assortment of fellow first-years that you may otherwise never have met anywhere else. It also is an opportunity to connect with communities nearby and engage in service.
My first year, I absolutely loved my CA group. Even though we were still in our COVID-era and could not do the typical overnight orientation trips, our group bonded quickly. One of my favorite memories was going to the Princeton-Blairstown Center (PBC) and getting to do team-building games and go canoeing together. Another would be doing a gardening service project at the local Grounds for Sculpture. These activities really brought our group together and, to this day, I'm still good friends with many members of my CA group. And even with those I'm not, it's nice to have a familiar face around campus to say hi to. Coincidentally, my CA trip is also where I met one of my best friends (shoutout Kelsey!). Though she was in a different group than me, we were both at the same service site and got to talking. We found out we shared a lot of similarities, like being from New Jersey, living in what was then First College, and also enjoying our CA experiences so much.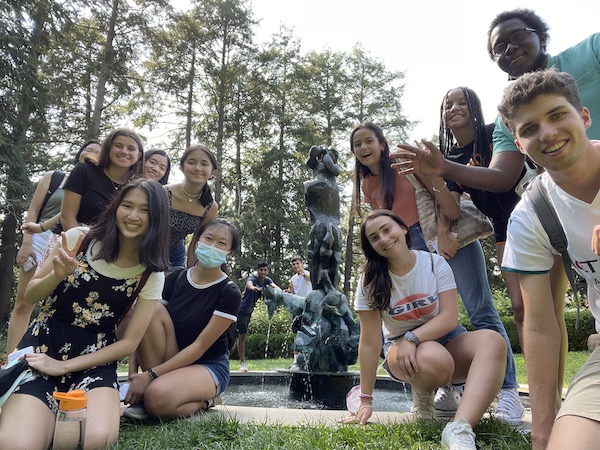 That is partially what inspired that very friend and I to become CA leaders together this year for the Class of 2026. Our CA group (shoutout Group 17~38!) quickly became like a family, and the energy and positivity our first-years brought was absolutely palpable throughout our entire trip. Now many weeks past the end of this year's orientation program, we still find ourselves sending jokes in our Group 17 chat, grabbing dinner together on Nassau St., and studying with them on our floor. I can safely say that becoming a CA leader was one of the best decisions I've ever made and our CA trip this year was one of, if not the, best 4 days of my Princeton experience thus far. 
All this to say, orientation and Community Action is one of the many ways Princeton helps foster community amongst the incoming class. From the start of your Princeton career, you're able to build strong connections with your peers — connections that will hopefully end up lasting a lifetime!