On a recent Friday, as I was walking back from Cannon Green with my friend Kelvin, I was approached by a curious graduate student. "Do you know what's going on over there?" he asked, referencing the festivities on Cannon Green.
"It's Declaration Day," I replied. "The Class of '24 announced their majors, so they're taking photos in their class sweaters in front of the banners for their majors."
"Wow," he said. "That's so extra."
I laughed and chatted a bit more with him before walking away. It occurred to me that the Princeton Declaration Day tradition is peculiar and maybe a little "extra," but it was enjoyable nonetheless. In the spring of their sophomore year, students receive a black knit sweater with their class year in knitted orange block letters. On "Declaration Day," after all students have declared their concentrations, students gather on Cannon Green behind Nassau Hall to pose for photographs in front of the banner of their department. Engineering (B.S.E) students declare their concentrations midway through their second semester, but Declaration Day occurs after arts and sciences (A.B) students declare, which is midway through their third semester. 
Image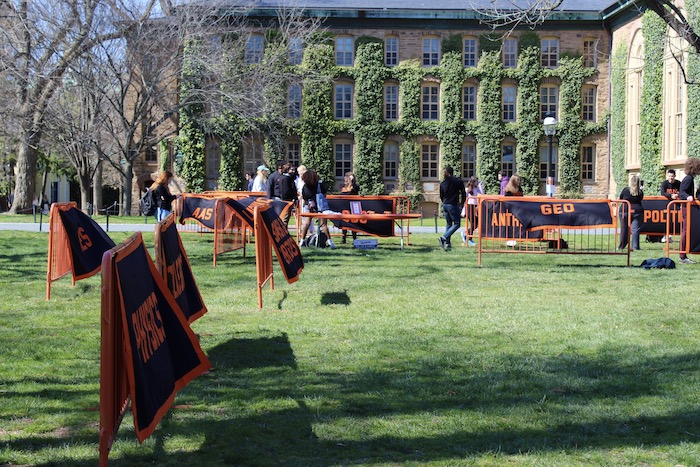 I applied to Princeton as a Civil and Environmental Engineering major, and CEE indeed ended up being the department I'm concentrating in. After taking several classes and conducting research in the department, I knew that tackling environmental engineering problems is what I'm most passionate and excited about. My experience is by no means common, though, as many students decide to concentrate in an area other than what they anticipated when they applied. The first semester and a half (for B.S.E students) or three and a half semesters (for A.B students) gives you a chance to try out classes in several departments and see what piques your interest. A friend of mine who anticipated majoring in CEE discovered she really enjoyed coding and decided to be a Computer Science major, for instance, while another friend took classes in both the Physics and CEE departments during his first several semesters to get a feel for both.
Even after you declare, though, it's somewhat surprising how many choices you have in your schedule to select classes outside of your department. I generally have about two to three required classes for my major per semester, and then I can choose two to three others to fill my humanities and social sciences requirements or work towards certificates (minors). Next semester, for instance, I'm planning to take a French conversation course (which will fulfill a social sciences requirement) and take an environmental chemistry course (which will count towards my Sustainable Energy certificate). So while I really like being a part of the CEE department and taking CEE classes (which are generally my favorite courses), it's nice that I still get to experience other departments during my time at Princeton.
"Dec Day" might have been a little extra, but it was a lovely moment where we could imagine what we'll do in the future with our CEE knowledge and training.
Image