It was the end of frosh week, which is the first week of the academic year where student organizations will have open houses to gain interest from students, and I knew the auditions had started at 7 p.m. I really wanted to go but my first-year self was not even sure of how to get to that dance studio and still needed a bit more confidence to show up alone to the auditions of a South Asian dance company. I went instead to the Triangle Show with some friends I had just met, but during the performance I kept thinking how sad it would be not to join such a cool dance group just because of my frosh week shyness. When the show ended I convinced one of the friends to run over to the rest of the auditions with me. When we arrived they just finished learning the classical piece for auditions. They were going to perform it in groups and then we would learn a Bollywood piece. My friend and I watched as the auditionees performed the classical choreography they had just learnt. I became both scared and excited, the choreography was so beautiful yet so different to anything I had danced before, it was indeed difficult! But once they filmed all the auditionees, the company members stood up and performed the Bollywood section we would be learning—Balam Pichkari! The fear immediately went away and the excitement multiplied; this is why I had wanted to auditions! That same night I received an email inviting me to callbacks, and the day after I was suddenly part of a crazy, welcoming student-run dance company called Naacho. 
Image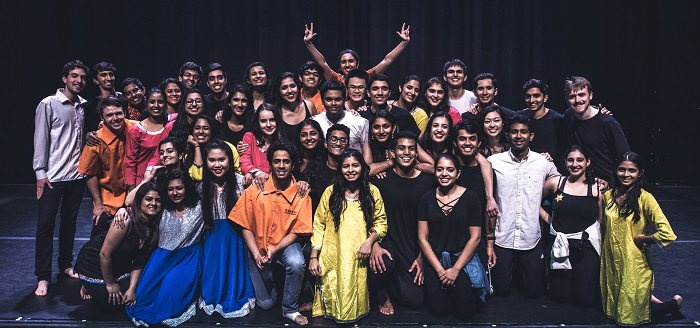 People on campus often ask me how I ended up joining a South Asian dance group and being so involved in it. The short answer is my roommate in high school was from India and she taught me some Bollywood choreographies, and I thought they were a lot of fun. The longer answer also includes how I have been trained in flamenco my whole life and the dance styles are similiar. This is due to the Roma ethnic group that developed the flamenco dance form in Southern Spain, which originated from India. Bollywood was the only South East Asian dance style to which I had been exposed but, through Naacho I have also learnt Raas, Bhangra, Hip-hop, classical and many more styles. Naacho late night rehearsals have been some of my favorite moments on campus and the weeks preceding the shows have been the most packed weeks in my whole time at Princeton. The "Naacho bonding nights" are the main reason I have not been able to get enough sleep.
Being in Naacho has been incredibly fun and it has also allowed me to better understand and reflect on the world around me, which has in turn helped me to better understand the Princeton community and the ways in which we can make it grow. Being the co-president of such a diverse dance company with dancers that come from all over the world, and which presents a wide variety of traditional and contemporary South Asian dance styles, is really an amazing privilege. Working with more than 40 students and leading a dance company that promotes the beauty of South Asian dance has been a very gratifying experience, but it is also a never-ending learning process. It takes time to understand how one can appreciate other cultures, and aim to do a just representation of often underrepresented communities to which one does not necessarily belong. While Naacho seems like an obvious choice to many of our dancers of South Asian descent, it becomes home for all the company, including people who had no previous exposure to South Asian culture. The student groups at Princeton are really a great way of exposing oneself to new cultures, communities and ideas. It is hard to figure out your identity in a new environment, but the process will help you grow in so many ways. I hope to see you all at auditions in the future!