Growing up I always loved baking. I loved to help my mom measure, whisk and sift. I loved when I was old enough to pick my own recipes and create my own dishes. Most of all, I loved the opportunity to enjoy the delicious sweet treats when they were finished.
As I got older, I had fewer and fewer opportunities to bake. Life got busy and baking simply wasn't a priority. That said, I never lost my love for it. I assumed that when I got to Princeton, I would have even less time to bake or at the very least, no one to bake with — I was very wrong!
While I dabbled in some cooking and baking, it wasn't until this past year that I really began to fully embrace my baking passion. I found a group of friends who were just as willing to crack open a good cookbook as I was.
We began by baking casually, some cookies here, some bread there. Before we knew it, we were baking multiple nights a week. As such, we decided to found our own baking club, dubbed "Thursday Night Home-Baking Group" funded by Princeton's Center for Jewish Life (CJL) and open to all Princeton Students. We bake fully kosher (and mostly vegan) baked goods Thursday nights at 7:30 p.m. in the basement of the CJL. Past delicacies include everything from challah bread and bagels to three layer brownies and vegan cheesecake. After we bake, we distribute the goodies to our friends, in Frist Campus Center, around the CJL and of course to ourselves!
Image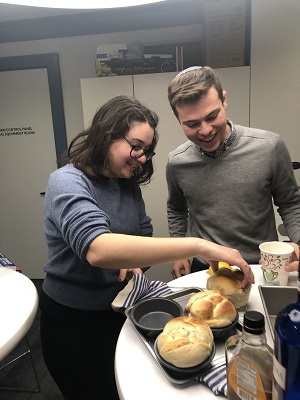 Our efforts to create delicious treats that are kosher is an important part of the club and its values. For students at Princeton who keep strict-kosher, it is almost impossible to bake or cook in a social setting because there is no public Princeton kitchen with kosher cooking equipment. Noticing this lack and sharing a desire to be able to bake or cook with my friends, was one of the key factors that led me to acquire the supplies needed to make a baking club accessible to all.
Image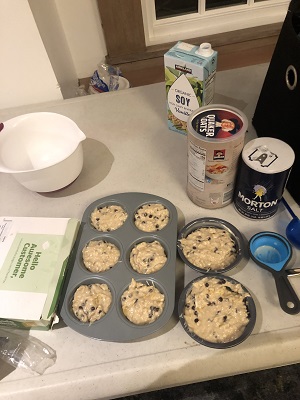 While students at Princeton are involved in a variety of different activities, helping to run this baking club has been one of the most rewarding leadership opportunities. It is a good reminder to take some time every week from the stresses of being a college student and make time for my friends while also doing something that I love. While in high school, I definitely struggled to find the balance between work and fun, my baking experience at Princeton has been another example of how college gives you so much more space to find balance.