It was 11pm, and Frist Theater was packed. I sat in the second row, squeezed up close to the stage, where an empty table, a couch and a banner emblazoned All-Nighter were arranged in anticipation for its season 10 premiere.
As the lights dimmed, a piano melody began to play. The announcer's chipper, sly voice came over the speakers and made several quick notes and jokes, to the low, appreciative murmur of the crowd. Moments later, the host of Princeton's student-run late-night talk show was striding down the middle aisle and leaping onto the stage.
In my four years at Princeton, this was the first time I'd made it to All-Nighter. I'd previously taken the show literally and assumed it was actually an all-night, dusk to dawn affair, which had put me off from attending. I quickly realized that 1) I deeply regretted my failure to attend every late-night show, and 2) I wouldn't have minded if it did truly last all night.
All-Nighter is a truly wonderful expression of the talent and passion bubbling at Princeton. Every episode features both a student and faculty guest who talk about their projects, passions and expertise. During this season's first episode, we heard from Professor Florent Masse's work with French theater and Olympic athlete Sondre Guttormsen '23. 
Image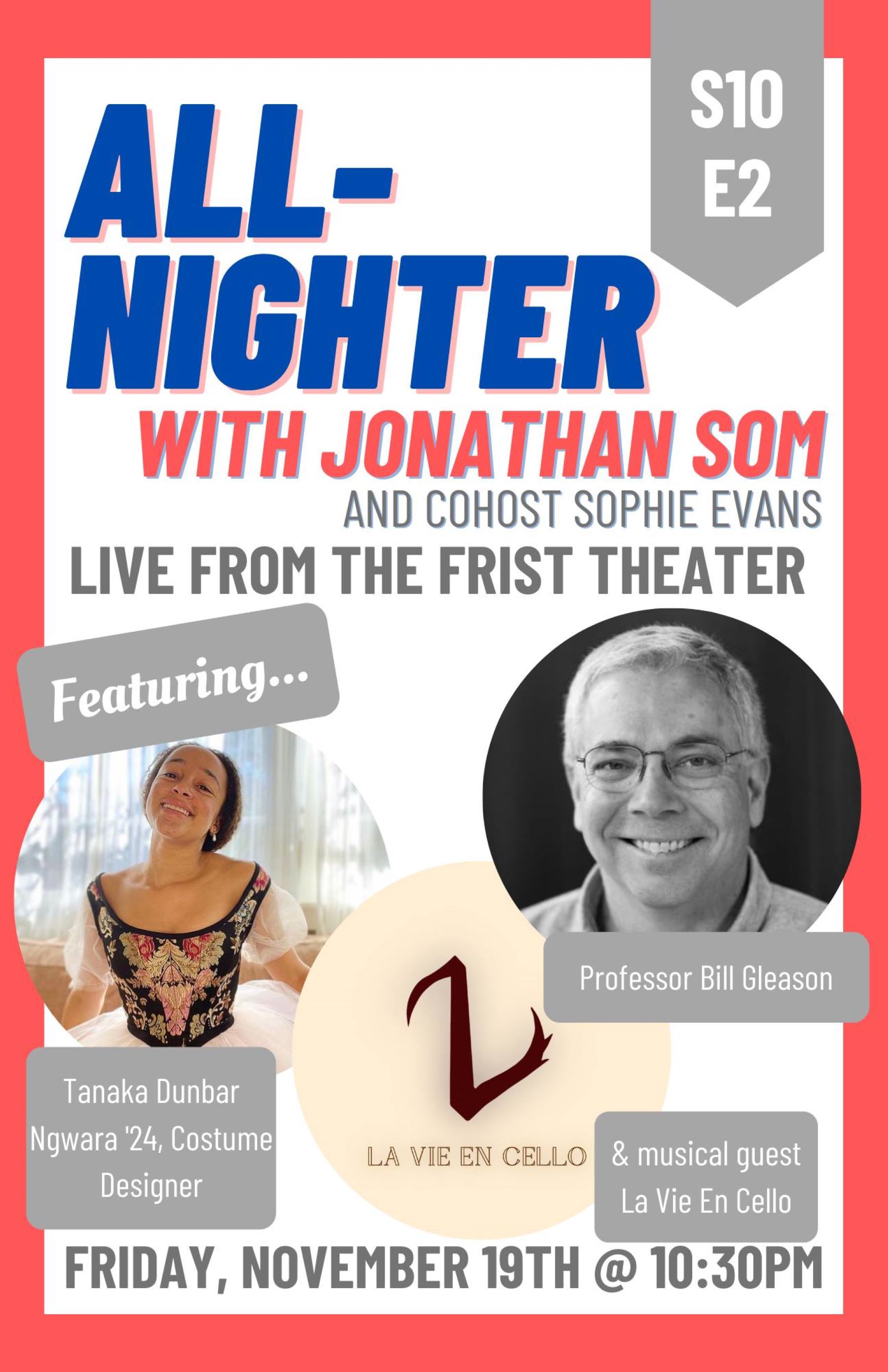 When I attended the second episode a few weeks later, I heard from Professor Bill Gleason, one of my favorite professors and teacher of the popular Children's Literature class; and Tanaka Ngwara '24, who designs fantasy period piece dresses and costumes and was recently featured in Vogue.
All-Nighter also features musical guests who are absolutely superb. I've heard student rappers, singers belt out soul-searching renditions of Adele and a cellist ensemble rocking out. And in between every guest, the show has wonderful skits and comedy sketches. There is so much work and passion on display both on the stage and behind it, because the entire operation ambitiously handles so many moving parts, guests and set pieces within a tight timeline.   
All I can say is - I'll be staying up for as many late nights as I can until I graduate.